When ordering a pillow from your own leather or suedejacket, 200 sek is taken of the prices below.
Trianglepillow
1390 SEK 
40x40cm
The trianglepillows preserves the jackets
wear without losing the details from the
original jacket. The pattern can be made
from one single colour or a mix too
create just the pattern you want.
Pineconepillow
1590 SEK
A small pillow with a big impression.
35 cm in diameter. The jackets are being
brought apart by hand. The pattern brings
the pillow a tactile feeling as well
as giving each pillow a unique look.
The pattern also makes sure every part of
the jacket is being used.
Plainpillow
900 SEK
40x40cm 
This pillow preserve the feeling of
the original jacket in specific details and
showing of the wear of the jacket.
Bowtie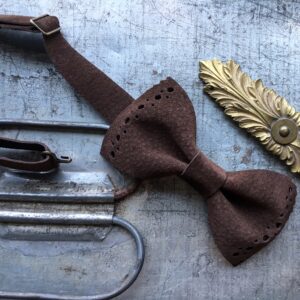 390 SEK
Bowtie-Brougetie
A upcycled leather or suede bowtie.
Unisex model with brouges-pattern.
Hardware details in antique-brass.
Handkerchief
Comming soon!
Handkerchief made out of the 
lining form the leatherjackets.
Why choose Hildur2john
Taking care of materials otherwise being waste
100%
Taking care of memories
100%
Made with love and happiness
100%